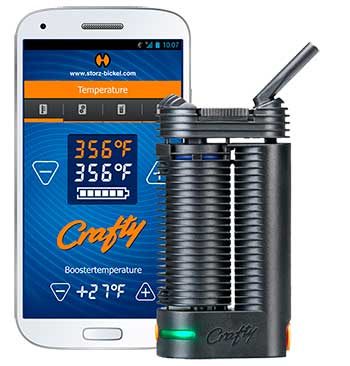 The Crafty Vaporizer is our favorite vaporizer on the market today. With the ability to monitor with my smartphone and the fact that the crafty produces great clouds of vapor anywhere. Being smaller than the Mighty the Crafty does fit into your pocket easily to make sure you have it everywhere. From skiing, hiking or even on a road trip the Crafty portable vaporizer gets a thumbs up from us.
The Crafty vaporizer is the smallest Storz & Bickel Vaporizer with a size of 4.3 x 2.2 x 1.3 inches (11.0 x 5.7 x 3.3 cm) and a weight of 0.3 lbs (135 g).
The Crafty vaporizer's compact construction with a single Lithium-Ion Battery Power is which is complemented by a practical easy to use one button control. You turn on the Crafty with only one keypress. It then heats up automatically until it reaches the default set basic temperature of 356°F (180°C). With a double-click on the button, you activate the booster temperature of 383°F (195°C). When the set vaporization temperature is reached, it is signaled through a short double-vibration and the LED-indicator lamp: The LED changes the color from red to green.
With the Crafty vaporizer, as well as with the Mighty and Plenty, vaporization functions on the basis of a full hot air convection heating combined with conduction. The convection heating provides an immediate and continuous vaporization, whereas the conduction ensures that there is vapor created from the very first breath.
The Filling Chamber, which is integrated into the Vaporizer, is to be filled with plant material (this is facilitated by the included Filling Aid) and the Cooling Unit with Mouthpiece is to be attached. The Cooling Unit makes sure that the vapor cools down and guarantees optimal flavor and a rich aroma.
Crafty Vaporizer Remote Control App: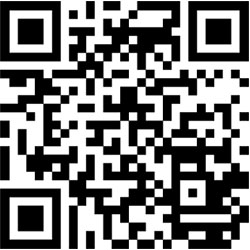 Individual settings of your Crafty vaporizer through Bluetooth Low Energy
The FREE Crafty Remote Control application offers you the opportunity to set basic and booster temperature of your device according to your custom personal preferences. Amongst other things, the application allows you to read off the battery charge status on your smartphone, to turn on and off the vibration function of the Crafty and to activate an alarm and vibration function for your smartphone. This adds to another level of discreetness.
You can download the Crafty vaporizer Remote Control App for free from the Apple App Store (for iPhone 4s or higher) or from the Google Play Store (for Android 4.3 or higher with blue tooth low energy fully enabled). Simply scan the QR Code with your iPhone and you will be forwarded directly to your App Store.
The Crafty Vaporizer is available here: https://www.vaporstore.com/proddetail.php?prod=crafty-vaporizer