Vaporizer Parts By Brand:
Bowls, Mouthpieces & Valve Kits:
Other Parts & Accessories:
Glass & Handkits/Whips:
Bags & Balloons:
Maintenance Kits:
Screens, Pads & Disks:
---
Vaporizer Parts offered by VaporStore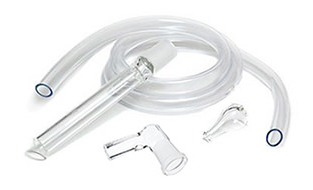 Check out our vast selection of replacement vaporizer parts for your portable or desktop vaporizers. Whether you need glass handkits & whips, replacement bags, valve sets, whip tubing, or new screens, VaporStore is proud to offer original manufacturer parts (OEM) for every vaporizer we carry. Not sure which part you need? Our customer service representatives are available via email and Live Chat. Feel free to contact us anytime and one of our VaporStore staff will be happy to help you.
There's nothing worse than buying a new vaporizer only to have a part malfunction. That's why VaporStore carries a huge selection of vaping supplies to help keep your vape products running smoothly. As an authorized re-seller of top brands like Vapir, G PEN, and Storz & Bickel, you will be sure to find any vape parts you might need for your personal vaporizer whether it's screens, cartridges, atomizers, or even a new mouthpiece.
Not only do we stock all the latest and most popular name brand vaporizer parts, but we also offer them at the guaranteed lowest prices. If you find the part you're looking for somewhere else at a lower price, we'll gladly match it – no questions asked excluding eBay and related websites. We have the largest selection of glassware, batteries, chargers, whips, mouthpieces, screens, and atomizers around. Whether you're looking for replacement parts or looking to upgrade your current vaporizer setup, we've got you covered. And don't forget, we're here to answer any questions you may have about any vaporizer accessories we carry.