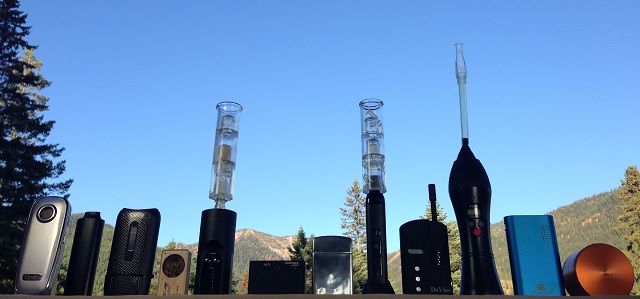 The Portable Vaporizer is the most popular form of vaporizer. They are small, compact and powerful and as technology advances they just seem to get better and better. Today we're going to go over our Top 10 Portable Vaporizers and rate them with how they rate with us personally. At VaporStore take into account quality, price, convenience and performance in our reviews, as well as user reviews and feedback that we have received from our customers.
There are two types of portable vaporizers. The general category of which you have vaporizers for dry herb material and some are versatile enough to also do waxes. Then there are what is called Pen Vaporizers. These look like pens and can be used with e-juice, waxes and concentrates. Many times with different delivery atomizers you can use the same battery and just change out the coil or atomizer. With each their are so many options for portables.
Portable vaporizers can also be referred to as Pocket vaporizers come in all different shapes, sizes and styles. We only have two rules that a vape must follow to quality as an actually portable: it must fit in your pocket and it must efficiently vaporize dry herb. The ability to work with wax or oils is simply a bonus, not necessary. A vaporizer pen doesn't fit this definition because there is really not a single pen out there that can vaporize dry herb effectively. A desktop vaporizer doesn't fit this definition because it can't fit in your pocket.
You will see some vaporizers in our store that are even smaller than some vape pens, but this is because they actually can work with dry herb. These vapes typically aren't shaped like a pen, and usually have a bit of an odd design. Standard portable vaporizers typically have a base and a straw, they don't usually have whips or bags like some of the popular desktop vapes out there today.
We will provide more detailed reviews on each vaporizer individually. Here is our current top 10 list.
Portable Vaporizer Top 10
Crafty Vaporizer:
The Crafty vaporizer is our favorite. Small and discreet and monitored by a Smartphone. Produces huge clouds on command.
Mighty Vaporizer:
The Mighty vaporizer is literally the big brother to the Crafty. It has an extra battery for longer sessions. This unit is big! That is the only draw back for a portable.
Titan II Vaporizer:
New to hit the street the Titan II vaporizer. The Titan by Hebe is a great cost effective vaporizer. Works very well and has gotten great reviews. Fits in your pocket and not much bigger than a pen.
Haze Vaporizer:
The Haze vaporizer is perfect craftsmanship. One of the nicer vaporizers we have seen. Produces great vapor clouds on the go.
Solo Vaporizer:
The Solo has many aftermarket options for delivery tubes and now has an option to replace the battery. The Solo is a great vaporizer for on the go.
Arizer Air Vaporizer:
New from Arizer the Arizer Air vaporizer improves on the Solo and delivers a streamlined portable vaporizer.
Magic Flight Vaporizer:
The MFLB or Magic Flight Launch Box is the original box and battery vaporizer. Works great and has many aftermarket attachments for things like water filtration and cooling.
Pinnacle Vaporizer:
This Pinnacle vaporizer is a great portable with many attachments that make this your one stop shop for portable and water filtration.
Wispr Vaporizer:
The Wispr is for those that still like butane vaporizers. Not as efficient as the battery powered units and can be effected by Temperature and Altitude.
VaporGenie Vaporizer:
The VaporGenie will work anywhere as long as you have flame. This is a great companion on the go when you don't know if you will be able to charge up your unit.
All of these portable vaporizer units are available at VaporStore.com