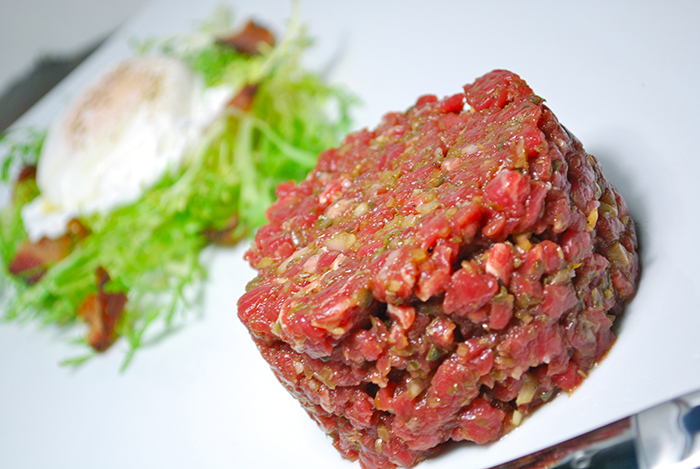 Method For Tuile
Preheat oven to 320˚F. Sautee the butter, garlic and mushroom together until mushrooms are starting to crisp, turn off the heat and let steep for 30 minutes. Addthe pepper, cayenne and salt to the mixture. Blend thoroughly and pass through a fine sieve. Put into a large bowl and gently fold in the cut chives. In a separate bowl, whisk the egg whites until frothy and then slowly add the powdered sugar until it starts to hold its shape. Mix the flour and the dehydrated mushroom powder together and set aside. Gently fold the egg white with the blended mushroom mixture until just combined. Slowly add the flour mixture and fold in until completely combined. You will need to make a rectangular cut out of a thin plastic and then spread the mixture on either parchment or a silpat using an offset spatula. Bake for 10-12 minutes in the middle of the oven rack. You will need a cone shape to roll the tuile around to hold its shape. (You can use any shape if you don't want a cone but let it rest in that shape until it cools and hardens.) Set aside for filling later.
Method for Beef Tartar
You will need a paddle attachment for your stand mixer for this recipe. Cut the beef into small cubes, crush the capers, brunoise the red onion, chop the parsley and add everything besides the chives into the bowl at once. Start mixing on a slow setting and gradually speed it up until everything is incorporated and the color is a little lighter. Make sure to scrape down the sides. Add the chives and fold in. Now put this tartar into a flat pan (I used a 9-inch baking pan with deep sides) and cover tightly with plastic wrap. Puncture the plastic wrap with a small knife, just big enough for the mouthpiece end of the Herbalizer hose to fit. Fill the bowl and set the Herbalizer to 375˚F on the vaporizer function. When the vapor starts to come out, put it inside the slit you made and cover completely with another piece of plastic wrap. When the pan is cloudy, take the hose out and keep covered in the fridge. Keep doing this every hour for 5 hours. Then leave in your fridge for at least 5 more hours and up to 2 days. Make sure you don't burn the cannabis or use the already vaped cannabis, it will impart a flavor and aroma that you don't want into the meat. Put the tartar into a piping bag and use it to fill the tuiles. Serve and enjoy!
Special equipment: Herbalizer table-top vaporizer.
Ingredients for Tuile
5 Tbs Butter
3 Large Garlic Cloves
¼ C Button Mushrooms
1 Tbs Chives
½ Tsp Pepper
¼ Tsp Cayenne
⅓ Tsp Salt
¼ C All-Purpose Flour
2 Egg Whites
⅕ C Powdered Sugar
½ C Dehydrated Shitake Mushroom Powder
Ingredients for Beef Tartar
10 Oz Beef
2 Tsp Capers
1½ Tsp Dijon
2 Egg Yolks
2 Tbs Red Onion
2 Tbs Parsley
4 Tsp Olive Oil
½ Tbs Horseradish
½ Tsp Lemon Juice
1 Tsp Lemon Zest
Salt To Taste
½ Tbs Worcestershire Sauce
2 Tbs Chives
½ Gram Favorite Cannabis to Use with Herbalizer