Vaporizer News:
Current Vaporizer News brought to you by VaporStore.
April 20, 2010
The International Cannabis & Hemp Expo (INTCHE) 2010 was a mega-event boasting 100,000 square feet of exhibition space offering over 50,000 visitors two full days of speakers, panel discussions, and musical acts.
January 28, 2010
New site that seems to be growing in poplularity - site includes weekly weed news and vaporizer type news.
May 27, 2009
Another issue of the BUZZ - vapormovement buzz that is was released. Sign up now for the newsletter by clicking here and signing up! We will keep you informed on the latest vaporizer news. www.vapormovement.com
March 3, 2009
Our affiliate site hits the top of google... Check outwww.vapormovement.com for current news about herbal vaporizers and the art of vaporizing. We are glad that in such a short time we have reached some short term goals. But, in the future stay tuned on vapormovement and all the blog scenes for interesting news about vaporizing and vaporstore!
February 24, 2009
Did you know you can reuse your vaporized herbs (a.k.a. "duff") for cooking? Most of the active ingredients from herbs are released during vaporization, however, what remains is still useable and can be extracted. One of the best ways to reuse your vaporized herbs is to melt them into butter and use it in your favorite recipe(s).




December 24, 2008
"Alinea Restaurant" in Chicago is regarded as one of the leading chefs worldwide in molecular cuisine. His competitors Juan Arzak of "Restaurante Arzak" and Ferran Adrià of "El Bulli" are also using the Volcano for their outstanding chef cuisine.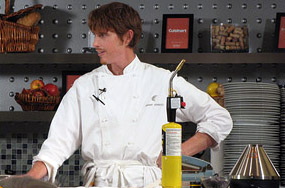 Grant Achatz is teasing the gustatory nerves with an aroma pillow filled with vapor from the VOLCANO Vaporization System.
Grant Achatz is using this technique to create an ambient aroma while the guest is enjoying the meal in his restaurant. The idea is to slowly deliver aromas during the meal and enwrap the connoisseur in flavor. The VOLCANO vaporizer is used to inflate an oven bag "pillow" that serves as the aroma dispenser.
The aroma will slowly disperse during the meal and create an ambiance of aroma. Grant Achatz describes the technique in his book 'Alinea' using lavender flowers for his pillow.
October 3, 2008
September 30, 2008
September 28, 2008
September 27, 2008
September 26, 2008
In order to view this object you need Flash Player 9+ support!